PROFESSIONAL
SERVICES
100% Live Music

(no tracks)

& Pro DJ
CONTINUOUS- Song-Blending
Volume-COntrolled
AUDIENCE-TAYLORED- Performance for any Event
Rig: JBL 2000W Elevated Pro Audio Array, Macbook Pro, Virtual DJ8 (Incl. Console & Wireless Dynamic Microphones)
Lights: Complete LED Stage Lighting
Specialty: Crowd-Drawing Audience Engagement
Tent: 10'x20' Summer Canopy
Value: Audience Dance Competitions, Prizes, Exciting Audience Engagements, Song Dedications, Birthday Serenades
Success-Focused Approach: Quality/Professional/Value/ Memorable/Fun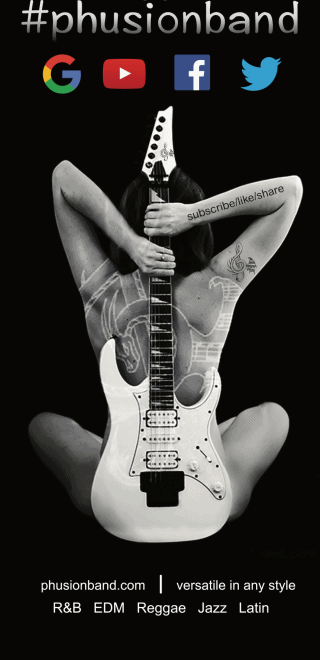 MEMBERS:
Paul: Vocals/Guitar
Brendan: Bass
Raff: Drums
R&B
EDM
Reggae
Latin
Jazz


- Smiles on Faces in Unexpected Places ;)
---
Our Mission
To help you organize and deliver a fun & memorable entertainment experience of great live music, energetic audience engagement, DJ/MC services, pro-sound and lighting equipment for all occasions, at any venue, at any scale.
Your Vision is Our Vision
We adapt our knowledge, experience & resources to deliver quality entertainment services to your event.
Who We Are
Est. 2003, PHUSION is an exciting group that specializes in performing audience-engaged live music delivered in multiple genres. Topped with jump-up energy, PHUSION is the only Trio in Toronto that entertains in every variation of R&B, EDM, Reggae, Latin and Jazz.
This 'musically agile' group is known for remixing these genres into the songs you know, while blending each song seamlessly into the next song LIVE (just like a DJ)!
Our audiences are blown-away by seeing and hearing our performances 'come alive.' Let us do the same for your audience at your next event.
Versatile In Any Style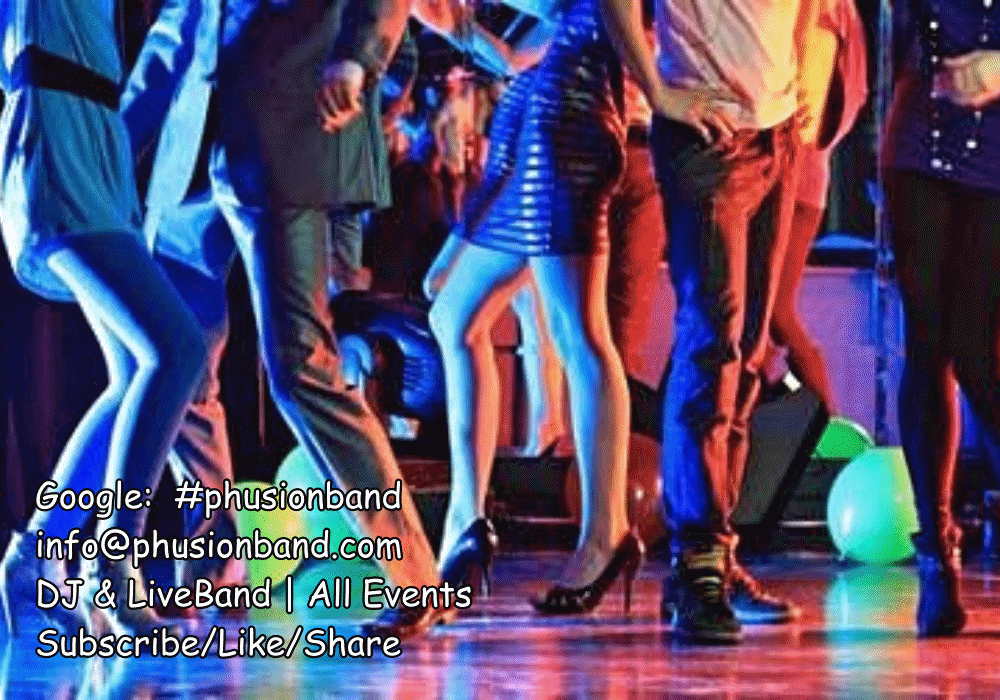 Audience Testimonials
"PHUSION is a must-have at any social event.
These guys are awesome and will have everyone up and dancing!" - Brigitte

"I've had the opportunity to enjoy phusion's live music on several occasions. I've seen them adapt to the crowd so that they deliver the right genre, the right volume, and the right level of audience engagement for those in attendance. I recommend hiring phusion for any event you host in the future."
- Norman
"I can honestly say that I was a witness to one of the greatest PHUSION events I've ever been to so far. Performing all night with audience participation put the cherry on top. They were great!"
- Dave
Paul, my goodness.... We should thank you and your group!!! You put the cherry on top to a wonderfully fun-filled party with our friends and family! Everyone hasn't stopped talking about you guys! Much love!!! :) - Our warmest thanks!
- Vivian
It was the best live band performance ever! Paul, you and your buddies showed us a unique way to spin up the crowd: Was there a single person at the party who was not dancing? - Leo
~ Thank You for Supporting Live-Music in Toronto ~
---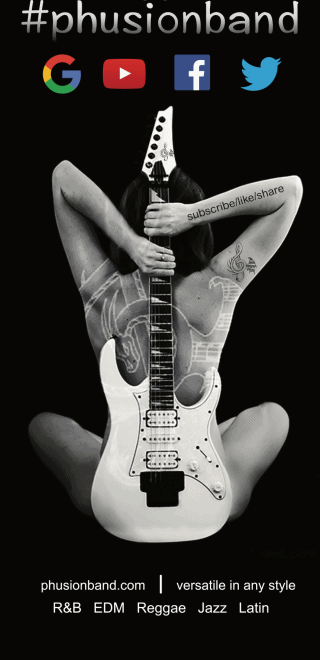 Copyright © phusionband "Versatile in any Style"
www.phusionband.com All Rights Reserved

Available For EVERYTHING:
Weddings Corporate Events Restaurants/Clubs Banquets Casinos Fashion Shows Festivals Galas Private Parties Fund Raisers
---
---
QUICK FACTS About PHUSION
1. With over 15yrs experience, PHUSION is a powerful & entertaining 'audience draw' for any large or small event. The ONLY group in Toronto that blends and re-mixes danceable songs LIVE (like a DJ) with audience-interaction at affordable pricing to scale.
A one-stop-shop for all your entertainment needs capable of providing combination or solo DJ services.
2.Restaurants: Mill Street Brewery Distillery, Alleykatz, Copacabana, Chimichanga's, William's Landing, Boston Pizza, Kelsey's, Jack Astor's
3.Corporate Clients: Ontario Science Centre Scotia Bank Davis & Henderson
4. Hotels/Weddings/Expo: Ontario Place Atlantis, Raddison, Gladstone, Westin, Estates of SunnyBrook, Sheraton Centre, Gourmet Food & Wine Expo
5. City-Events: Toronto Beaches Jazz Festival Scotia Bank Marathon Taste of the Kingsway T&T Night Market Yonge Street 10k Run